Hydraulic Cranes
Auto Engine Handler
This is a type of stacker that comes with a crane boom attachment that can withhold a capacity of 300 kg.
It is designed specially for dismantling and mounting engines of various automobiles like cars, trucks, etc. in garages.
These are known for it's durability and high tensile strength. Our clients can also avail customized products from us.

Stackers
The Mac-Lifton Stacker is developed by our dexterous team of professionals, which makes lifting, stacking, unloading, positioning and handling operations easier, faster and safer.
These stackers can uphold capacity of 500 kg, 700 kg and 1000 kg. We even offer a variation in lifts of these stackers like 1800 mm, 2400 mm and 3600 mm.
Platform table for positioning and loading heavy jobs are optional. These are generally used in machine shops, assembly lines and warehouses.
We manufacture stackers that have manual hydraulics and electro-hydraulics of 220/440 V AC.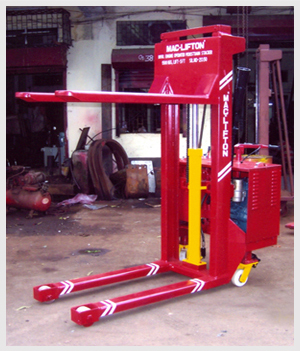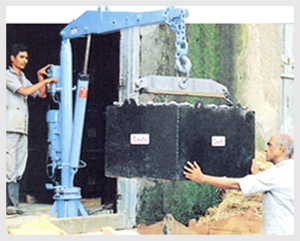 TLP Cranes
TLP Cranes are smooth, quite, hydraulic powered, heavy duty cranes,and can be either truck mounted or floor mounted. They can revolve 360°

Capacity : 1000 kg.,2000 kg., 3000 kg.
Operation : Manual or by 220/440 V AC
Applications : loading and unloading at factories, godowns, self loading and unloading of trucks. Manual extension boom provides longer reach.

LP Floor Cranes
An economical materials handling tool for lifting loads vertically between the legs. LP Floor Cranes are also available with adjustable wide leg for additional boom swing, facilitating entry around odd sized loads.
Mac-Lifton LP Floor Cranes have been designed to travel easily through aisles and through doorways.

Capacity :1000kg., 2000kg., 3000kg.,
Operation : Manual or by 220/440 V AC
Applications : For lifting and transporting regular shaped loads within the shop, plant, warehouse, garage and outside on level flooring.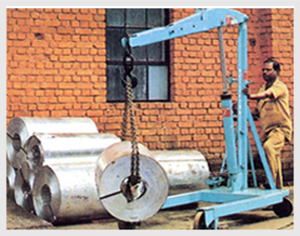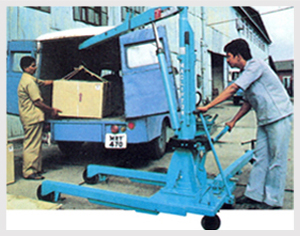 CLP Floor Cranes
The CLP Floor Cranes are extremely adaptable and can be converted easily with an extension boom and outriggers for extended revolving on either side.
CLP Cranes can be handled easily by one person to lift, shift and stack materials efficiently, in close quartes,as well as in open areas.

Capacity : 1000kg., 2000kg., 3000kg.,
Swing : 90° on either side using outriggers.
Operation : Manual or by 220/440 V AC
Applications : Loading and Unloading, supplying materials and components to sub assemblies and production areas and for stacking, transport, loading, pipeline laying etc.

Pallet Trolleys
The Mac-Lifton Hand Lift Pallet is tough, reliable, economical and easy to use. It facilitates quick and efficient handling and transportation on the shop floor and in warehouse. tasks much quicker and easier on the shop floor and warehouses.
The load is raised by pumping the handle, and lowered with a simple hand operated control. A hand operated pump idling knob, frees the handle from hydraulic restrictions for free movement and ease of operation.

Capacity : 1000kg., 2000kg., 3000kg.
Fork Length : 1000 mm to 1200 mm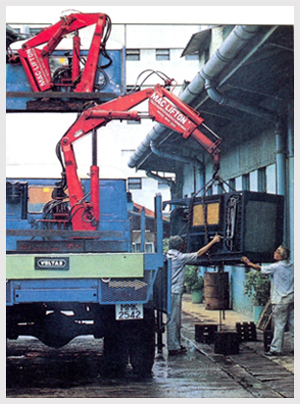 Truck Mounted Knuckle Boom Cranes
The Mac-Lifton Truck mounted and Pedestal mounted Knuckle Boom Cranes are highly versatile. They can reach over, beyond and below themselvels to pick up and position and load.

Capacity : 1000Kg, 3000Kg at 2500mm
Maximum Reach : 4000mm hydraulic.1000mm manual extension.
Operation : Electro-Hydraulic,poweredby 440V or by a hydraulic pump operated by the truck PTO unit.
Rotation : 360° by hydraulic actuators.

Applications : Intricate loading / unloading and positioning, holding and manipulating long or awkward loads. The Truck mounted crane has a 3 in 1 applications as a crane at loading point, as a carrier of loaded materials and as a crane at unloading point. Mac-Lifton Knuckle Boom Cranes can be custom built, subject to a 7.5 meter tonne maximum capacity.

Light Truck Cranes
The Mac-Lifton Light Truck Crane is designed for safe and speedy loading and unloading of delivery vans. It can be operated by the driver himself and facilitates quick turn-round.
The crane folds down to take up minimum space when not in use and is extremely light. So that carrying capacity is not affected.

Capacity : 1000Kg.1300mm
Maximum Reach : 1750mm
Rotation : 360°(worm gear arrangment)
Applications : Self loading and unloading,servicing of heavy equipment in the field. Operation : Manual hydraulic power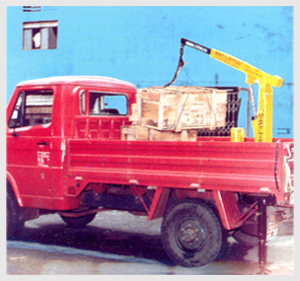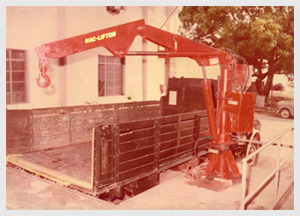 Pedestal / Foundation Cranes

E-Hydraulic Goods Lifting Platform
Shalimar Engineering Co. offers an Electro Hydraulic Goods Platform usesful for raw material departments, warehouses, manufacturing plants, etc; and saves a lot of time and space while handling goods.
It is also manufactured as per clients' requierment up to the height of 20 feet and capacity of 500, 1000 and 1500kgs.
It is built with required safety features, limit switches are provided at the bottom and at the top to cut off at maximum height. Mechanical stopper is also provided safety railings around the platform are detachable type and controls can be given on the platform or on the top or at the bottom the lift does not require special pit arrangement as it can be fitted in the minimum required space.
DC power pack is given as an option in case the client requires hand pump durning emergency ie it can be used during powar failure too. The electricals of the platform can also be given flame proof electrical.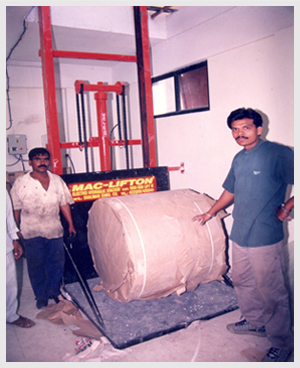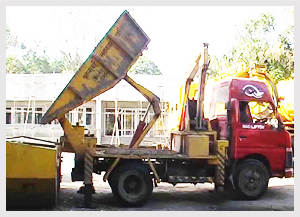 Desilting Machine With Tipping Container
Mac Lifton Desilting cum dumper is a two in one machine a new concept in open drainage cleaning. The two in one machine is designed to clean open drains with the help of its excavator like arm. The silt is then loaded on to the container provided on the vehicle and then dumper at the dumping site.
These machines are suitable for lifting and removing accumulated deposits of silt, debris, grit, pebbles. stones rubbles, grass, animal dung, twinge, vegetables, small branches of tree etc. for establishing the free flow in the drains.





(+91)22 24221309
(+91)22 24312141
+91-9820060700
(Ashwinkumar)